Sympioesis-
Storytelling in the Anthropocene
Tenderbooks
1st December 2018


Image: Markus Vater-Origin Myths.
Diaspore presents the second edition of Sympoiesis concluding a year long programme employing storytelling as a means to explore the anthropocene. In a variety of formats, artists taking part will present their research, stories and speculative scenarios in an attempt to (re)connect with millennium and future symbiosis.

Sympoiesis was born out of an interest to explore the idea of 'making with'- to collectively-produce systems that do not have self-defined spatial or temporal boundaries.
PROGRAMME:
2pm- Origin Myths- Markus Vater
People have always had a desire to understand where they are coming from . Origin Myths are at the beginning of narrated history and interwoven with our understanding of who we are. They offer a glimpse at the human self image and of the stories we believe in. Markus Vater will make a presentation and reading involving Origin Myths. The work is a response to an earlier book he made concerned with the end of the world.

2.35- Theo Delek Djang- Alex Ressel and Kerrie Meehan
Alex Ressel & Kerri Meehan are currently working on a project in the Top End of Australia researching nuclear culture, learning about place and memory and how stories can hold information over thousands of years. Alongside their work, they are also helping Bininj (Indigenous people from West Arnhem Land) to materialise their stories. The video presented here is is born out of a friendship with Theo Gulawumu. Warruwi is land which he is the Traditional Owner for, which means he holds responsibility for the country and is obligated to look after it.
Theo's Delek Djang story demonstrates how site specific stories can connect times, regions, animals and people.
2.40- Our Gelatinous Past- Sophie Mallett
'Our Gelatinous Past'- a speculative docufiction film in which jellyfish are cast as the protagonists of a new era in geopolitics. Global warming has disrupted ocean currents and their dependent trade routes, simultaneously halting trade relationships and enabling epic blooms of our gelatinous overlords.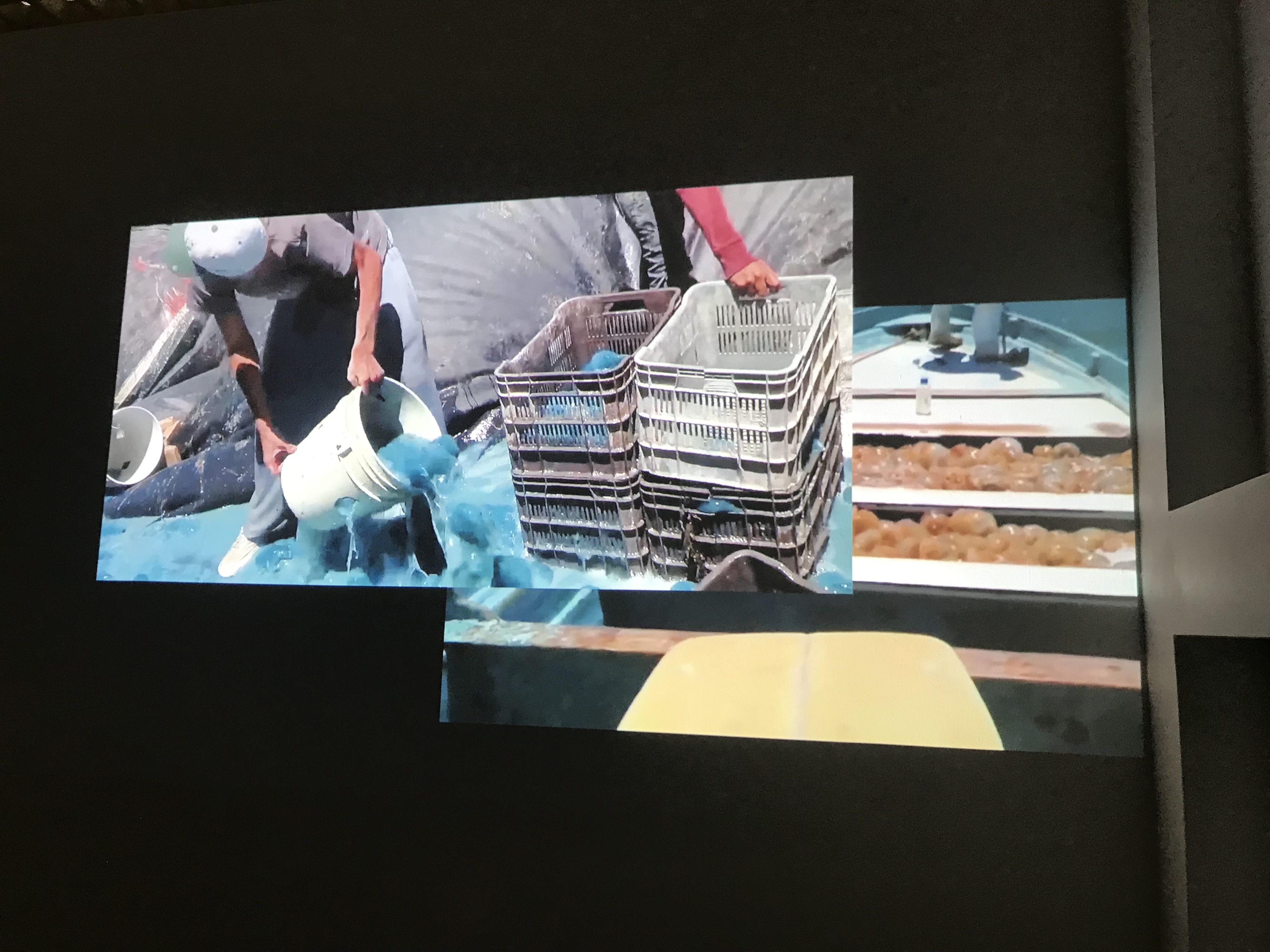 INTERVAL

3.15 -If Dolphins Had Thumbs- Sophie Rogers
A live audio visual performance of images created during the online residency withDiaspore Project Space. This work explores a speculative future where dolphins have left for an alternate earth, leaving humans to their fate. Pulling together content from online discussion websites, scientific research and science fiction, Sophie Rogers imagines a marine metropolis and functioning society led by the dolphins. For this performance, she has invited artist Poppy Moroney to respond to the themes and visuals of the project by curating a mix to be played alongside the slideshow.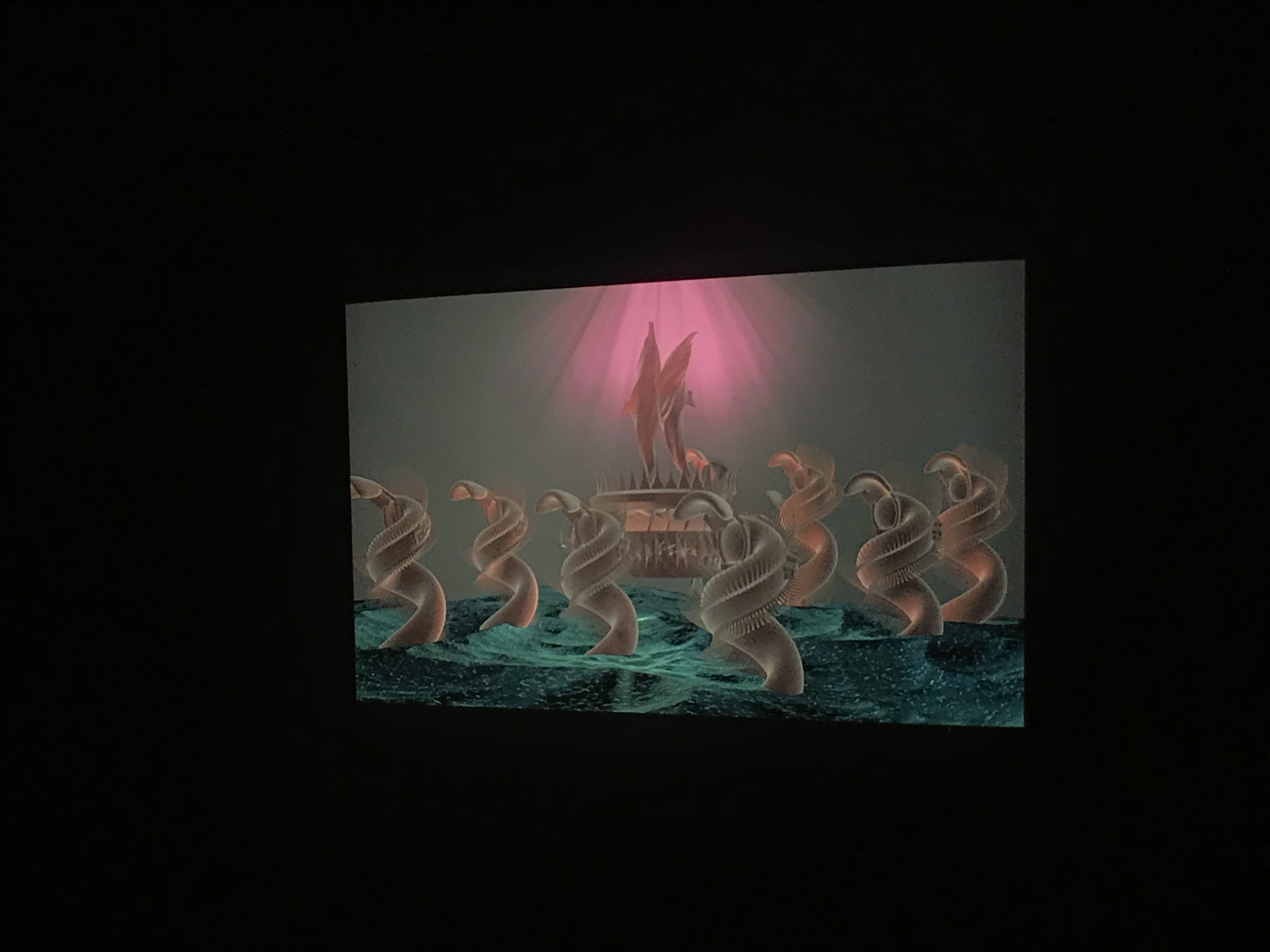 3.40- The Tsunami of Five Sands- Charles Pryor- Paquita Milville-
Lou Atessa
By the end of the 2100 major parts of the world's forests had been decimated as a result of anthropogenic forces, the few trees still standing had rotted from the inside due to atmospheric pollution; their root system shrivelled and disappeared. The transformation of the fields, the meadows, the tundra's and the forests and all that supported human life turned into dust, with all coastal communities migrating inland due to the rising sea levels. To this date pre-biotic communities still refer to this event as The Tsunami of Five Sands.
4.00- The Finer Things and Many Fine Things- Ariane Schick
Schick presents a reading of five short texts about parties and places. The extracts start with a party thrown at the Met in New York taken from 1989's Barbarians at the Gate: The Fall of RJR Nabisco, a journalistic account of the famed leveraged buyout of the end of the 1980s followed by an account of Donald and Melanias 2005 wedding from a GQ article about the event and finally three shorter transcripts from the pages of Architectural Digest, a magazine self proclaimed as an "International Design Authority" published by Condé Nast.